If accepting extreme challenges and taking risks never made sense to you, don't go near Mount Bintumani.
'Big B' as our crew called it, has beautiful plant life! Thick rainforests with all the sound effects. Not missing the occasional chimp stalking you from a couple meters up. Flowers and trees that could get you to stop, turn your heads and get you picking flower samples and smelling stalks.
You could find small forest fires scattered throughout the trail to Camp 2. There were times hikers would be ankle deep in ash, with every step sending up ash and dust. We gathered from our guide that; it was started by hunters to drive out the wildlife so they could kill to eat/sell.
Bintumani is Sierra Leone's highest mountain, at a staggering 1,945m. It's West Africa's highest peak till Cameroon. It's an amazing mountain! Brimming with vegetation and it's not flooded with Tourists – yet.
Don't get me wrong, it's not a boy scout hike. It has the potential to be the most extreme hike of your life yet. If you're reading this, it means you're considering adding this beast to your list. I'll have to warn you, this isn't one you're going up without a fight!
Perhaps the best way (in my opinion) to prepare for Bintumani is hearing how I climbed it.
Let's Go!
—
– Packing Party


There is need for this ritual even if the hike is for 1 person, packing with a clear head with time to buy and outsource stuff from contacts is advised.
Must haves:
Tents preferably 2 to 1 (or sleeping bags or hammocks or whatever works for you)
Food supplies including 2 large meals per day and an endless amount of sugary or nutty snacks, you'll need those energy boosters!
Chlorine Tabs for water purification. You'll be drinking your water straight off the clear streams that run in the veins of the mountain. It is wise to have more than you'll ever need in case your bodies decide to start a dehydration contest.
First Aid kit – having it and never needing it, is better than needing one halfway up a mountain off a village that is 50Km from the nearest hospital.
Cooking supplies. Pots, spoons, plates, soap, pepper, seasons and don't forget to bring a lighter or a big box of matches.
Sardines are easier to carry and can survive some of the toughest conditions, biscuits and groundnuts are also easy to carry and are great sources of energy.
Strong comfortable shoes, long sleeves and long pants for tall sharp grass.
What you want is to travel light, every ounce you don't need should be shed!
Day 1 – Freetown – Kabala – Sinekoro.
We left Shell company car park at the east of Freetown at exactly 6:00 AM got a Nissan car for LE 75,000 per person, it was surprisingly too comfortable. We decided to pay for six seats to avoid being crammed up with two other strangers. We needed to be in Sinekoro by nightfall so we also had to prevent needless stops.
We arrived in Makeni around 9:00 AM. Our driver was pleased to change our plans so he got us another Taxi, he negotiated with the new driver, paid him. We confirmed, got in and left for Kabala. Nothing prepared us for the orient style mountains between Makeni and Kabala.
We arrived in Kabala around 11:00 AM. Kabala was cool and breezy, nothing like humid and stuffy Freetown, all was well
Day 1.6 – Motorbiking
You will get an idea of how rugged the terrain is when the bikers ask for $35 (LE 350,000) per person one way. Steve and Teah bargained hard (Freetown style) they settled at $28 (LE 280,000). We later got to realize it was a fair amount because the bikers were very skillful on merciless terrains.
We left Kabala bike park around 12 Midday.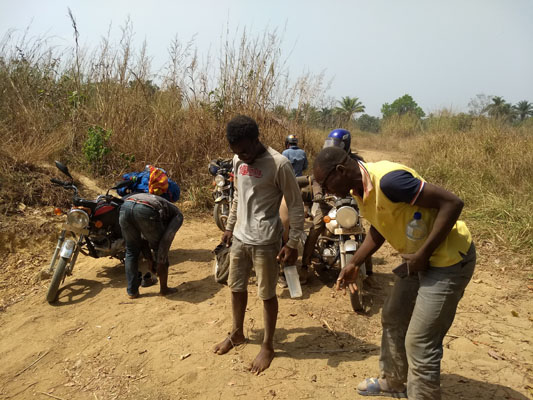 After 2.5 hours on bike-back we arrived at a large village called 'Firawa'. It has a police checkpoint manned by two very outspoken police officers. They welcomed and asked us where we were headed – well confirmed it really. People with hiking backpacks don't just trudge down that part of the country, if it's not Bintumani calling them. They were cool but I was suspicious of their chatter and friendliness, I considered it the calm before the proverbial storm.
As expected, they skillfully asked Steve & Andrew (our foreign team members) for their official permit to hike Bintumani from the Ministry of Tourism in Freetown. Such a permit doesn't exist! we saw straight through this scheme, but we didn't want any trouble so we played along. Andrew showed them a snapshot of his passport and visa on his phone, and Steve who has been in Sierra Leone longer showed them his work ID.
They still didn't budge but threatened to send us back to Freetown if we didn't produce it, (Bluff!).
One of them made eye contact with me, and led the way into the unfinished building which doubles as a house and office. He reminded me that I'm Sierra Leonean, therefore I should know what to do – 10 minutes later they were wishing us well, smiling and laughing as we headed for Sinekoro $4 lighter.


Day 1.9 – Sinekoro



We arrived at Sinekoro around 6:00 PM. Drained but happy the 4+ hours of biking were over. The bikers took us to the house of the town chief. A small man who spoke carefully and made little eye contact. He asked for $10 – LE 100,000 from each hiker. Already frustrated about the amount of money already spent just to get there, we offered him a box of tea bags, soaps and $20 – LE 200,000 which he accepted. We told him we intend to start our hike first thing the next day, so he started arranging a guide for us. Kids were sent to show us around, and we chose a spot to pitch our tents for the night.


Day 2 – Sinekoro – Camp 1 – Camp 2
Our guide came early the next morning after settling for about $70 the previous night and we took off. But before leaving we had to pay more than our respects to the Paramount Chief who stays in the same village. His speech climaxed as he asked our foreign teammates to pay $50 – LE 500,000 each. We went on and on telling him how this will discourage future hikers, because we will return and definitely talk about this. Then he opened up, and explained that they get almost no support from the government. Nothing to improve tourism, education or even to construct roads leading to the village.
He said these funds are sprinkled on all these areas including a project to build a guest house in the village for hikers to be comfortable and spend more time. The fees they ask for; he said, goes to projects one of which was a road construction that was on at the time. He was a nice man, but we met him with the cynicism we take with us when listening to politicians.
He made it clear that there are neither penalties nor fines if you don't pay these fees, but it will mean a lot to their development and livelihood if we did. We advised about possible structures for a central payment system that will replace all the multiple negotiations. He was given $50 – 500,000 for both our foreign teammates.
As a peace offering, he asked to take a picture with us before we took off for the mountains.


We took off and headed into the forest, Mamoud led the way with his rifle and machete. We greeted locals on the way to their farms to check crops and traps, it was a beautiful day. We were ready.
We headed into the jungle. After crossing a suspended bridge and a beans field, packed with smiling harvesters.


We headed into the thick jungle fast and strong the first few hours. The sounds of chimps and birds high above us were like background music! We slowed down as the trail got steeper and the path leafier. Slipping and grabbing cords got normal as we gained elevation towards Camp 1.
We arrived at Camp 1 around 1:30 PM. Mamoud told us the steepest parts were behind us and we believed him. I've never been so misled.
Camp 1 is a small clearing with a stream in the middle. It has thick vegetations on both sides, which made it so beautiful. We rinsed our upper bodies, snacked and refilled our water containers.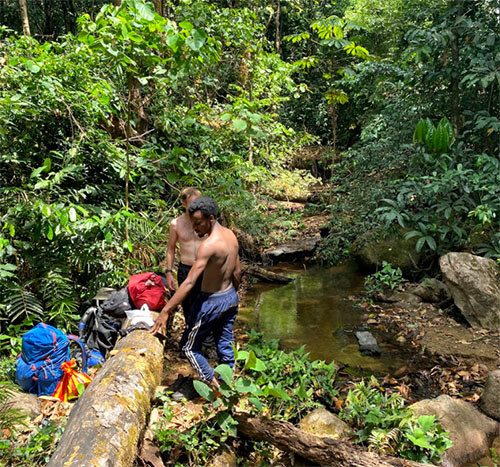 Day 2.7 – We rested for 1 hour and left for Camp 2. It's important to not waste time. The distance between Camp 1 – Camp 2 is steeper, farther, frustrating and full of ash and sometimes smoke from burning trees and leaves.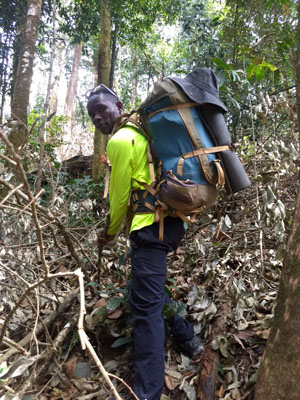 After suffering for hours and proving that our guide's calculation of distance by time is nothing to depend on, we got numb and sore. We were taking breaks after every 10 minutes!
This was also when we'd snack, drink and tighten our very heavy backpacks & make them sit on our hips and so they don't sway back and forth.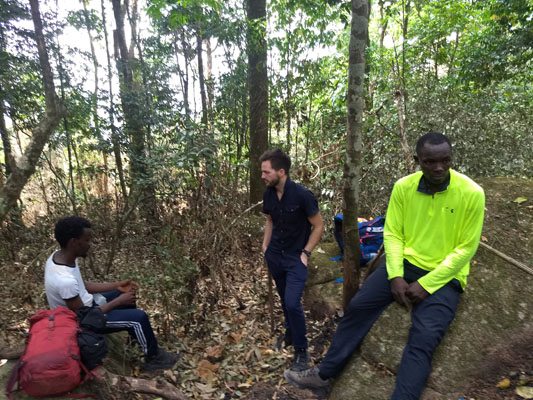 After 4 hours that felt like weeks. We finally arrived at a clearing so beautiful, we instantly knew the pain was worth it.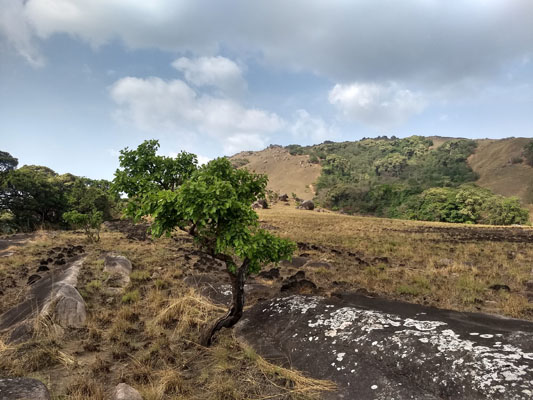 We arrived at Camp 2 early in the evening, and just couldn't get our eyes off the little hill and the underlying bushes. We had coffee, chatted and went to sleep at around midnight and woke up by 9:00 AM, to a very beautiful day.
Day 3 – Summit – Camp 2 – Camp 1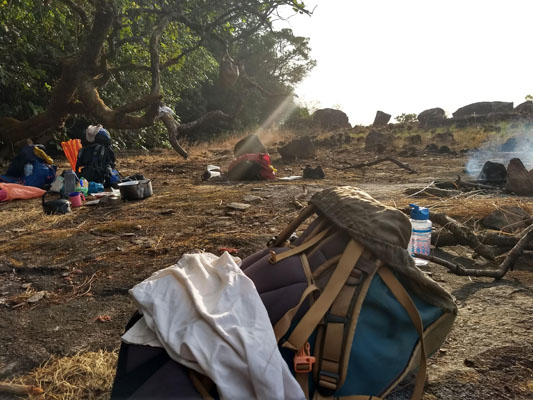 But first…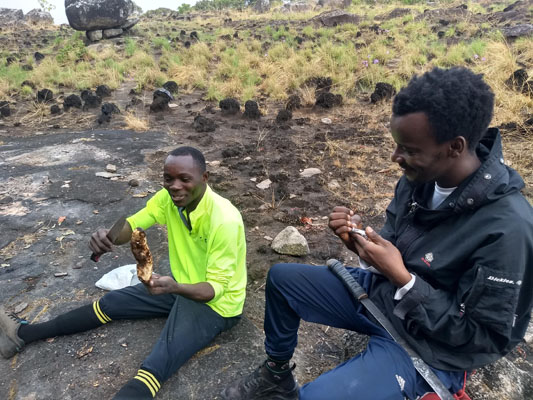 We kept our stuff tucked in the bushes so we don't travel with all our weight to the summit.
We walked up the tiny hill and broke out of the bushes and saw plains with boulders and fields that were straight out of a 'Lord of the Rings' movie.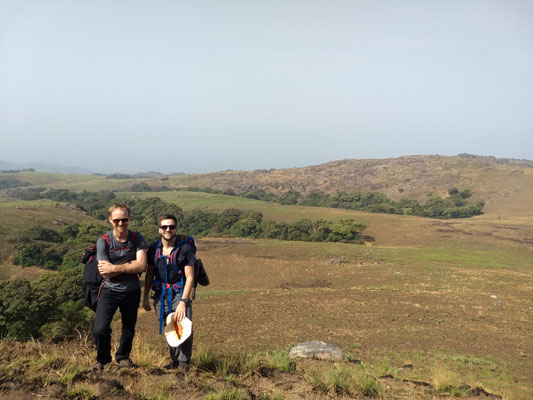 We hiked for another 2 hours on the beautiful plains occasionally seeing 'Fritambos' (A dog sized rodent) hundreds of meters away scampering into the bushes.
We saw neither baboons nor the other interesting wildlife we were hoping to see. We were disappointed, but excited still.
We we're not there to hunt anyway, so the absence of beasts didn't take away the beauty of our trip. The only beast that became clearer by the minute was 'Big B' emerging out of the fog slowly, almost intimidatingly.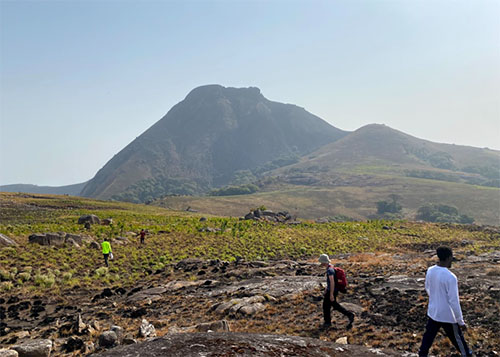 Feeling already accomplished we stood underneath the summit, as our legs ache beneath us, smiling still. We left our other bags at the foot of the summit and headed up the rocks, sometimes on all fours sometimes climbing sideways. It was tough, my leg muscles burned and tightened I felt like that was it for me.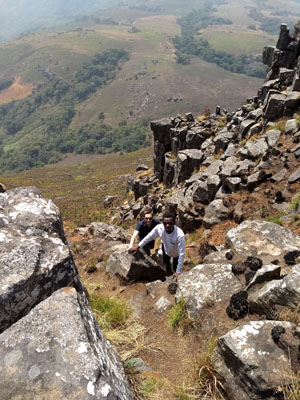 After 3 days of battling man and element we made it to the summit. It was a bright clear Sunday afternoon with blue clouds and cold breeze.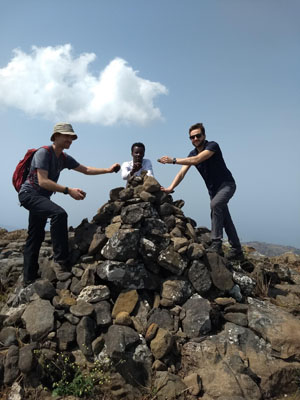 We then found a snake skin and abandoned all ideas of spending more time at the top! We headed down the summit and sat on a tiny hill just over the plains.


We headed down to Camp 2 again and started the descent to Camp 1 where we camped on the third day.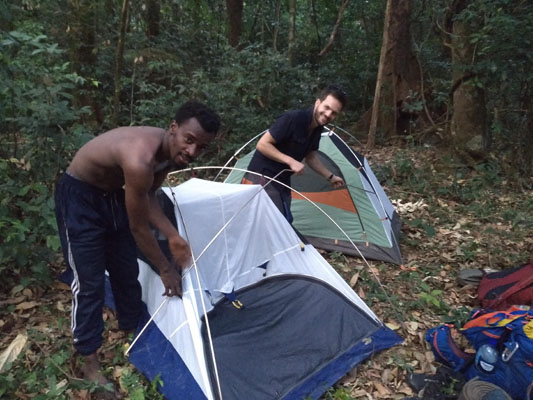 We pitched our tents and had dinner. It was a quiet night and the air clean and pure. The first time I ever slept in a forest. Weirdly too comfortable.
Day 4 – Sinekoro – Kabala – Freetown.
We woke up on the fourth day and headed for Sinekoro, where we waited for the bikes for about an hour. We paid for a meal, and bought some fruits.


The bike ride back to Kabala felt differently. We felt one with the land. A mountain tribe of four. Accustomed to the smell of trees, and drinking stream water fresh off the hand of the planet.We arrived at Kabala in the evening around 6:00 PM. We took showers and had cold drinks after a weekend in the jungle.


If you're considering attempting Bintumani my advice would be Go!
But go prepared, go with more money than you think you'll need. Go ready, go smart, go lite and informed – just don't go in the rainy season, unless you hate your life.