Take part in colorful festivals and lively traditions, explore bustling markets, and sample the local cuisines. There are numerous festivals happening this December, but these are some of the best lined up for you. Try not to miss them!
1. Food Fest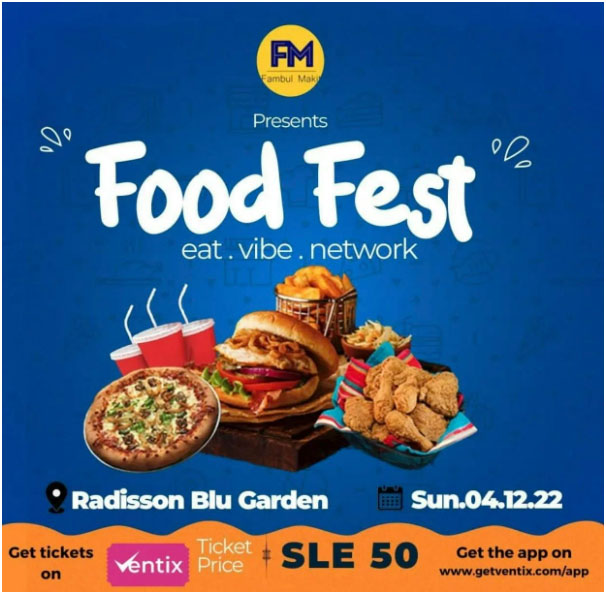 Get ready to have a taste of Sierra Leone once again at the biggest food festival, featuring different food and drinks vendors with participation of over 5000 people. This day festival is happening live on the 4th of December 2022, at the Radisson Blu Gardens.
Ticket: Le 50
Download the Ventix app to get your ticket early
Check out their pages for more information:
Facebook – Fambul Makit
Instagram – @fambulmakit
Twitter – @FambulF
2. Funky Fest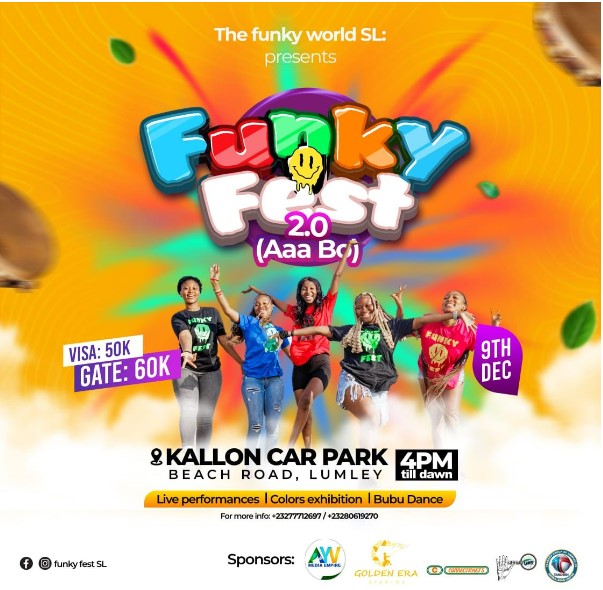 Funky fest is geared towards promoting Sierra Leone's Culture, Fashion, Arts and Music through entertainment. This festival has been consistent for the past three years. On this year's funky fest calendar,  the funky fest team is planning to bring out one of the best entertaining shows in Sierra Leone, as they are looking forward to working with Sierra  Leone's finest entertainers. There will be  live performances, Bubu and cultural dance, Holi colors powder exhibition, Good music, food and drinks will be available for reasonable prices.
Tickets: Le 50
For more information on ticket purchase follow instagram page or contact them below
Instagram handle: funky_fest_sl
Contact details: +23234484929 / +232 76 398151
3. Ma Dengn Beach Festival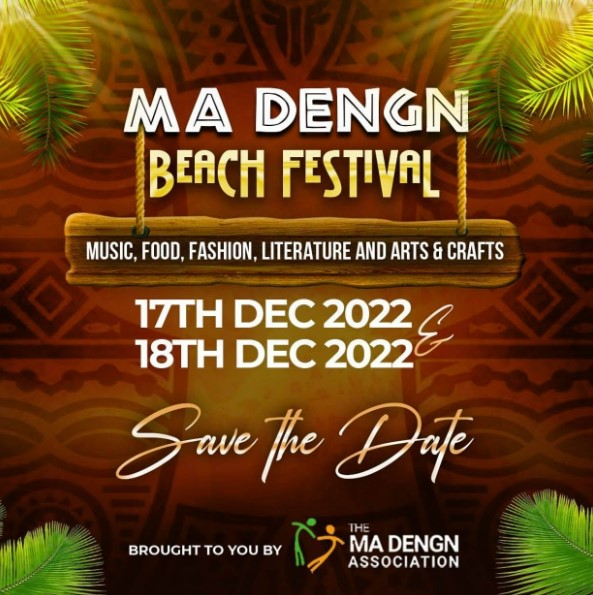 This is one of the biggest festivals in Sierra Leone, that is annually held in Freetown with participation of over 6000 people. Ma Dengn Festival is a two days program that showcases and promotes Sierra Leone culture through mouth watering cuisine, cutting edge fashion, progressive literature, feet stomping  traditional and contemporary music.
This year's festival is set to happen on the 17th and 18th December 2022. Cost and Venue will be out soon. Stay glued on their pages for more information:
Facebook – Ma dengn Beach Festival
Instagram – @madengnsl
Twitter – @MadengnFestival
4. Gbamgbaode Festival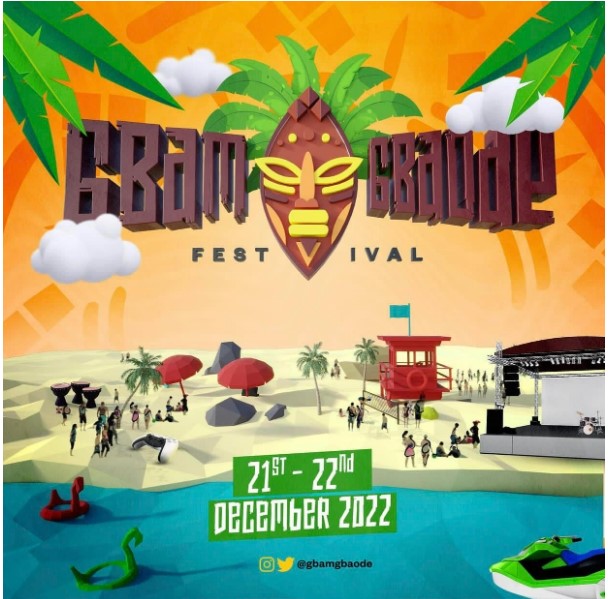 As the name goes 'Gbamgbaode' which means 'Out in the Open' in the local krio dialect, is ready to showcase diverse local talents out in the open and also adding an international touch to it. This is a two days festival and is set to feature Sierra Leonean culture, ranging from, arts, dance, poetry, and sight-seeing of beautiful beaches and historical sites in Sierra Leone. Dates for this festival are on the 21st and 22nd of December.
Get ready to be entertained these two days. Stay glued on their pages for more information
Facebook: Gbamgbaode Festival
Instagram: @gbamgbaode
Twitter: @gbamgbode
5. Soca'm Festival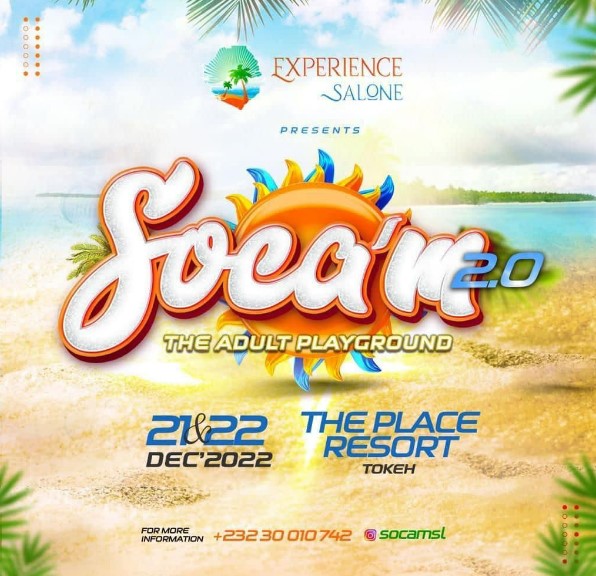 The Adult PlayGround is back this December 21st and 22nd 2022 at The Place Tokeh Beach. Rooms and tables can be booked on eventbrite  https://socamAdultPlayGround.eventbrite.com, or you can book through the following mediums:
Instagram:@TheAdultPlayGround
Call/WhatsApp: +232 30010742
6. Mega Jam Festival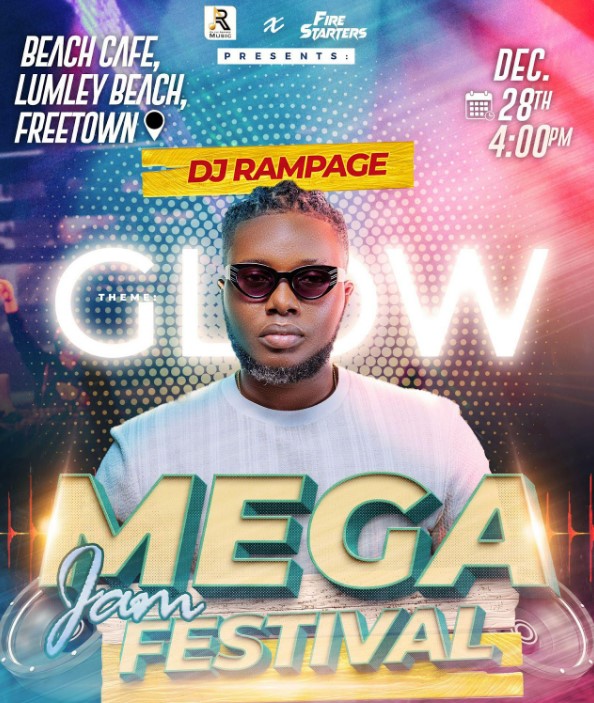 The 2022 edition of DJ Rampage Mega Jam Festival will bring together the finest local and international DJs taking turns spinning the best Afrobeats, Amapiano, Hip Hop, RnB, Dancehall, and more genres of music from across the world. The theme for this year's festival is "Glow in the dark," which aims to bring all the neon vibes featuring colored decorations,glow glasses, glowsticks, neon-colored paints, and more.  Rampage is set to headline this all-exclusive DJs festival which is the first of its kind in Sierra Leone. From the exceptional food and refreshing cocktails to the glow ambience and banging music.
Date : 28th December 2022
Venue: Beach Cafe, lumley beach
For more information check
Instagram page: @megajamfestival
7. Afri-carribean Festival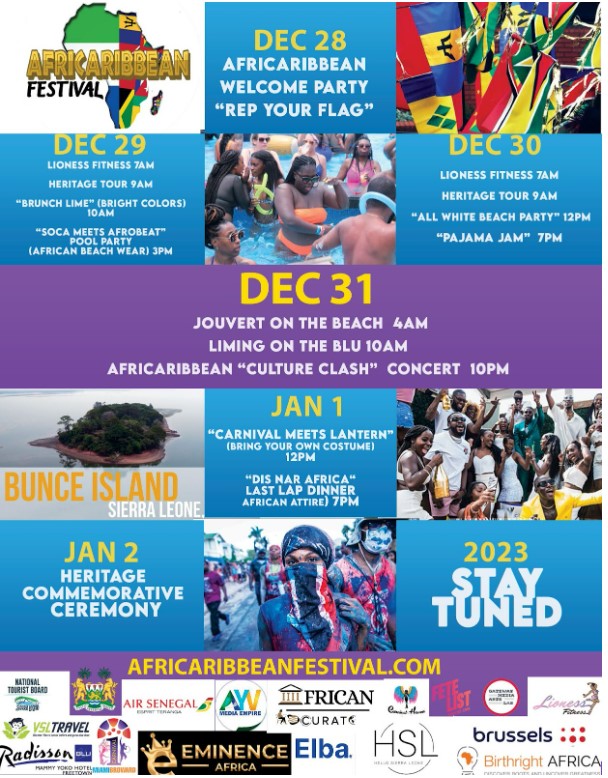 Afri-carribean  festival is an ultimate week long excursion with 10 different events and two days of tourism. Festival will feature Sierra Leone's most beautiful beaches, night life, restaurants on the beach, local cuisine, cultural music (Gumbe bubu), African's music (Afrobeat) and finally Caribbean music (Soca,Calypso) and their culture.
Also a welcome party, day fetes, a traditional J'ouvet, an Africana Ball and much more including a grand concert featuring the biggest Sierra Leonean and Caribbean artistes is expected. Festival starts on the 28th  Decmber and ends on the 2nd January. You can book through the following mediums:
Call/whatsapp: +232 30/75 200555
Instagram:  @afri.caribbean
About the Author
Latest Posts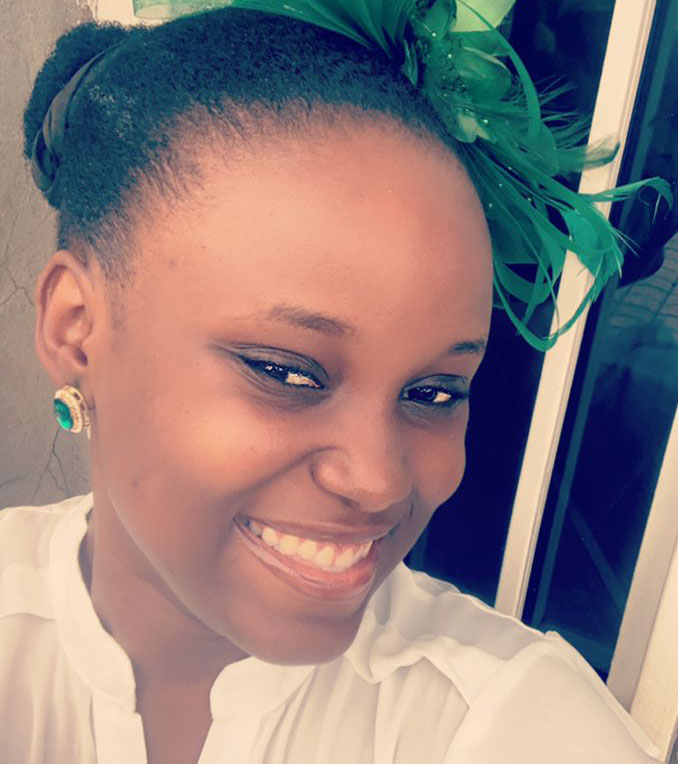 Fun, outgoing, a natural entrepreneur with a zest for life and all it has to offer. Julia moved back home in 2020, after earning a Chartered Marketing Certificate in Ghana, and is now the Business Development Officer of VSL TRAVEL. Julia Laggah is as Sierra Leonean they come and enjoys promoting the destination.